Sign up for an Amazon Wedding Registry for 20% Off & Free Gifts
Finally he put a Ring on it (Or finally she accepted)..Get started with the BEST Bridal and Wedding Gift registry on the planet.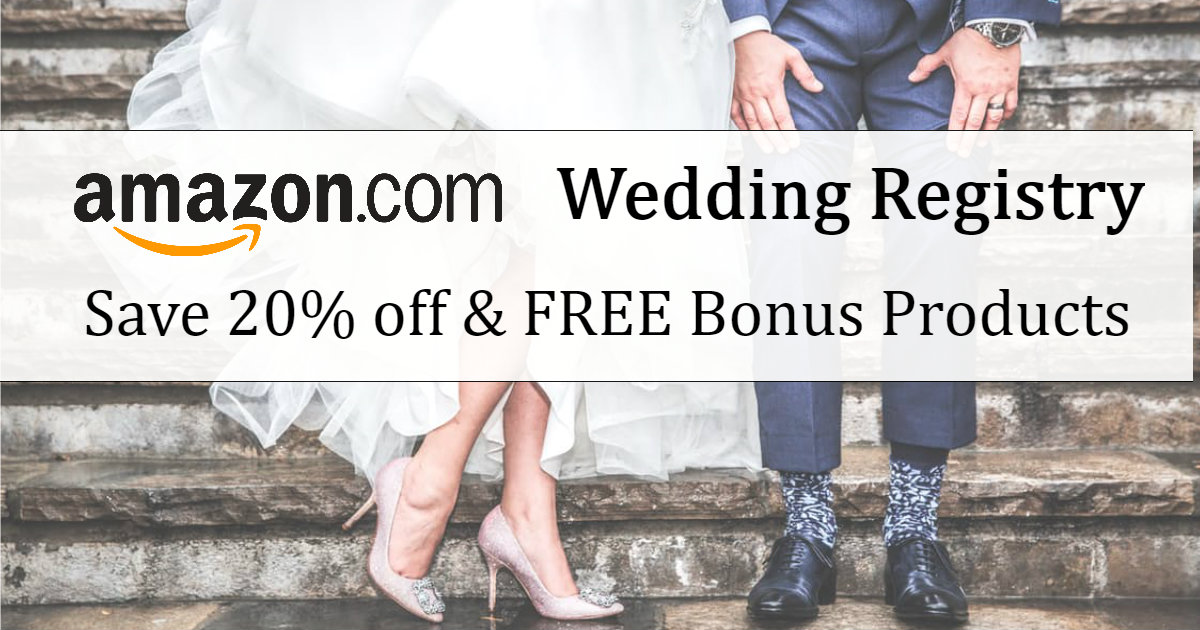 Sign up for an Amazon Wedding Registry
to have access to the world's largest Selection of products, exclusive discounts, free product promotions and much more. Perfect for getting life started together with the products you'll both want. You'll get MORE with Amazon Wedding Registrys than you will with any other registry out there!
Free 20% off Registry Completion Gift
After your event date, enjoy a one-time 20% one-time discount for Amazon Prime members or 10% discount for non-prime members (Not a member? Sign up for a
FREE Trial)
on items shipped and sold by Amazon. The promo code expires 90 days after the event date so you'll have plenty of time to use it. Save up to $200!
Free Bonus Gifts
Select merchandise vendors offer
Free Bonus Gifts
when a guest spends a certain amount on a specific eligible brand. The bonus gifts include additional FREE merchandise from that same brand.
It's Universal
Keep track of what you want from anywhere. Add from other websites to your Wedding Registry with the universal button.
Easy to Find
It's easy to share your registry with friends and family. You can share your direct link via email and social media. Amazon Wedding Registry is also partnered with theKnot.com to make it even easier for your friends and family to find your registry.
Extended returns
You have up to 180 days after your wedding to return most items from your registry The regular return policy is 30 days.
Free Thank You Lists
Amazon makes it easy to keep track of the purchases your guests make and fills their information into a convenient Thank You List.
What are you waiting for? Sign up for an
Amazon Wedding Registry
now.
We are a participant in the Amazon Services LLC Associates Program, an affiliate advertising program designed to provide a means for us to earn fees by linking to Amazon.com and affiliated sites.