Ask Angie: Where to Find Coupons
In this week's live video I showed our fans several different types of coupons and where to find them. If you missed the video, don't worry. You can catch the video on
MySavings.Com's Facebook
page. Be sure to like our page to receive alerts and notifications.
This week we started a new live series called Ask Angie. Ask Angie will take place every Tuesday Afternoon and I will be discussing how to save money with coupons.
For the first video I showed our fans how and where to find coupons. Below I have created a list of the different types of coupons and where to find them.
.
Printable Coupons
Online printable coupons from
MySavings.com
are available to print from your computer, laptop, tablet or mobile phone. Each device is permitted two prints of each coupon. New coupons are added daily and coupons reset every month.
Newspaper Coupons
Newspaper coupons usually come in the Sunday newspaper. Red Plum, Smart Source, and Proctor & Gamble are the most common coupon inserts from the Sunday newspaper. A number of newspaper coupons vary by week and region.
Store Coupons
Store coupons are found in-store and are sometimes mailed to you directly. Most stores have a small newsstand at the entrance which will have the store's weekly ad and possibly store coupons. Check Customer Service if you cannot locate your store's coupons. Additionally, check to see if your store has an app. There might be digital coupons available.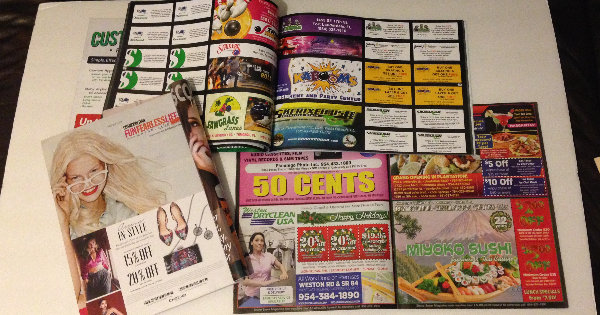 Magazine Coupons
Magazine coupons are random coupons found in magazines. The variety will vary. Many cities offer a coupon publication with local offers off restaurants and entertainment. Students often sell coupon books part of their school fundraiser that can help you save big on area food and attractions. Popular magazines also have coupons including beauty magazines, baby magazines and even your favorite gossip magazine.
Peelies, Hangtags and Tearpads
Peelies, Hangtags and Tearpads are coupons found in grocery stores directly on the product.
Peelies are coupons like stickers which you peel off the product you're purchasing.
Hangtags are paper coupons that are hung on products.
Tearpads are small notepads looking coupons that are also found near the product it is for. All of these coupons can be found in-store on products.
Blinkies
Blinkies are magic little coupon machines found through stores. The Smart Source company places these coupon machines in front of products for customers to save on specific products. Just look for the green blinking light. Best of all, they're free so you might want to grab a few.
Coupons from free Samples
Request free samples of products and some come with coupons. Free samples + free coupons = :)
So there you have it. The best places to find coupons. Happy Clipping!
Coming Up Next Week on Ask Angie: Birthday Freebies and Birthday Coupons! Yay!