The Best FREE Amazon Hacks on the Internet
Amazon is no doubt the biggest retail marketplace in the world. Did you known it's also a popular place to score a ton of freebies?
We're sharing our most secret Amazon Savings Hacks! These little-know hacks will help you save big bucks and score some pretty neat freebies along the way.
Amazon Prime 30 Days Free
Let's start with the most popular (with good reason) Amazon money saver, Amazon Prime. Mostly known for its super awesome FREE 2 day shipping, Prime has morphed into a giant super saving monster that gives you a load of freebies and benefits unseen like ever before. Just SOME of the benefits include:
Free 2 Day Shipping
Free Prime Movies
Free Prime TV Shows
Free Prime Music
Free Games with Prime Twitch
Free Audible Channels
Free Prime Photos
Free Prime Early Access Deals
Free Kindle book rental per month
Free Prime Reading
Free Samples Shipped to your Door!
Amazon treats their members very well and will even occasionally send FREE Samples to you!
Students get Prime FREE for 6 Months
College or incoming college Student with a .edu email? Sign up for Amazon Prime for FREE for 6 months! You'll also get free Prime shows, movies, 2 day shipping, Prime music and so much more.
Have EBT or Medicaid? Get Prime for 56% off
You score a discount on Prime if you have an EBT card or Medicaid. Amazon will verify your status every year but it's a very easy process.
Buy a Sample Box, Get a FREE Amazon credit
Exclusively for Prime Members, you can buy an Amazon Sample box and get s FREE Amazon credit once your box ships. If you buy a Beauty box for $7.99 you'll get a $7.99 credit that can be used on beauty products on Amazon, it's like getting is for FREE. You can also get single samples with
Amazon credit here.
FREE Credits When You Choose Slower Shipping
Take the Bait, Seriously…do it! Amazon Prime will often bribe its members to choose a slower shipping option (5 days instead of 2 days). The bribe is usually in the form of a FREE $1 credit for digital videos, music and eBooks. Perfect to buy your favorite new song, book or let them add up to buy a free movie or movie rental. Another freebie that is occasionally offered is a whopping $5 credit off Amazon Pantry.
Student? Score 6 months of Amazon COMPLETELY FREE
If you have an active .edu email account and are enrolled in at least 1 course you can score Amazon Prime student FREE for 6 months. Plus, when the trial ends you will have the opportunity to get a Prime membership for 50% off ($49 instead of $99)!! You'll get EVERYTHING regular Prime Members get except Prime Music and Kindle lending library.
FREE Premium Movies & TV Shows for 28 Days
How would you like to score FREE HBO, FREE Showtime, FREE Starz and FREE Prime exclusive TV shows? A Full month of free movie watching can be yours with these Hot Trials. We gave you all the details in our last Amazon article on how you can watch
FREE Premium movies for 28 days
in one of our most popular hacks on the net!
Save Big with Amazon Coupons
Amazon offers many coupons off many products! They are so easy to add to your account and can help you save big. One of my FAVORITE ways to save big is to find Subscribe & Save items to use the coupons for to save even more! Prime Members also have a page with their own exclusive coupons! Speaking of Subscibe & Save…
Save up to 15% more with Subscribe & Save
One of the more genius ideas Amazon has pulled off! Select home, baby and personal care products offer Subscribe & Save as an option during check out. Subscribe & Save is an automatically recurring delivery option that will give you an extra 5% off the product, or 15% off when you subscribe to 5 or more products. You can change the delivery dates or cancel at any time. You'll also score FREE SHIPPING.
Have Kids? Keep them Busy with Amazon FreeTime
Amazon has a NEW really cool membership program for Kids called FreeTime Unlimited. You can Score 30 Days for FREE! You'll get Unlimited access to 13,000 kid-friendly books, movies, TV shows, educational apps, and games. Prime AND Non-Prime members can sign up for this freebie
Two FREE Audible Books Instantly & One Free Audio Book EVERY MONTH
Sign up to score 30 days of Audible membership for free! There is a HUGE selection of Audio books, magazines and more, plus you'll score two free audiobooks that are yours forever, 1 free credit every month and you'll have access to special discounts worth up to 30% off for members only. Plus, if you're not happy with a purchase you can swap it out completely free.
Add-On Items = Bigger Savings
One of my biggest Amazon addictions is purchasing add-on items. Add-on items are heavily discounted products that would cost Amazon too much to ship on their own so they require you to purchase at least $25 worth of products in order to unlock the add-on price. What most people don't know is that you can add $25 worth of Add-on items to your cart in order to qualify. PLUS, if available, you can use an Amazon Coupon & Subscribe & Save to save even more! We've posted deals for $2 razors and $1 mascara with these tips!
FREE Washington Post for 6 months
Amazon Prime members can score a free 6 months Washington Post digital subscription for completely free. It's so easy.
Amazon Family = Bigger Discounts & Free Baby Box (Baby Box currently unavailable, sign up for a registry NOW for when it comes back)
Prime members get 20% off diapers & wipes subscriptions, a
15% Baby Registry completion discount
, and personalized age-based recommendations, compliments of Amazon Family. Plus, learn how you can score a totally
FREE baby box
filled with awesome baby products compliments of Amazon Family worth $35.
Complaining Pays Off
Did your Amazon Prime order not arrive by the guarantee delivery date? Contact Amazon Customer Service. Amazon takes good care of their customers. It is not unheard of to receive a promotional credit for the inconvenience or even an extension to your prime trial and membership. My preferred method to contact Amazon is by their online chat option. It's fast, the representatives are friendly and they are always willing to help make it right.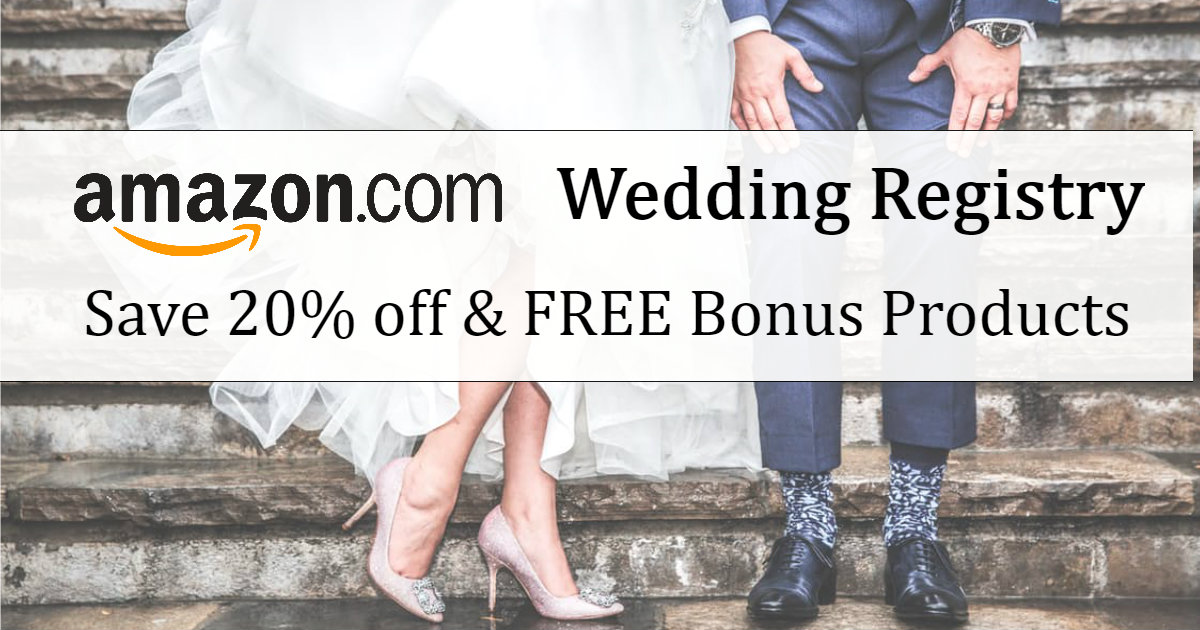 Amazon Wedding Registry Freebies
Score a 20% off coupon and free products with purchase. We put together a whole list of all the Amazon Wedding registry benefits
HERE
.
Amazon Credit Card
Increase your savings while shopping on Amazon with an Amazon Credit card. There are sign up offers that save you big money off of purchases, and score 5% off every Amazon Purchase. Plus, Amazon Prime members don't have to pay an additional annual fee.
FREE Kindle eBooks for 30 Days
Sign up for a Free Kindle Unlimited trial to score free UNLIMITED ebooks for 30 days. With Kindle Unlimited you can read your favorite magazine, books and more on ANY device.
Free Amazon Music Unlimited
Move over Pandora! Amazon is offering a FREE 30 day Trial of Amazon Music Unlimited. You will be able to stream your favorite music anytime, anywhere with NO annoying adds.
Order Add-on Items with Alexa
Have an Echo or Alexa device? Order any add-on items with her and you won't have to meet that pesky $25 minimum order requirement. I love my echo dot! It's pretty much paid for her self in one month. It's also GREAT to use with the music unlimited trial.
We are a participant in the Amazon Services LLC Associates Program, an affiliate advertising program designed to provide a means for us to earn fees by linking to Amazon.com and affiliated sites.